Brittany Hanrahan Very Funny Comedian – 2 Episodes
Brittany Hanrahan is so damn talented. I truly enjoy personality and comedy. I do think she will do big things in the comedy world. We initially met when she was living in Phoenix, Arizona and I would see her around the comedy scene. Now Brittany Hanrahan lives in L.A. and puts together a show called 2020 Was A Beach.
First Time Brittany Hanrahan Was On The Podcast
She has been on the podcast twice now. The first time was right before she moved to LA and I was happy to have her in the studio in early 2020. You can hear the first episode here.
Brittany Hanrahan has always wanted to move to LA as she believed it would be the end game for her, and she was finally ready for the change. She realized that even the most well-connected people have to start from the bottom in LA, but that didn't stop her from working her way up.
Brittany enjoys traveling for her stand-up shows and getting to know different cultures along the way. She loves being able to share her jokes with different audiences and feels like a rockstar as she travels from place to place.
Brittany is also a big fan of social media and feels like a celebrity whenever she uses TikTok. She works hard on her social media channels and finds joy in making quizzes about reality TV shows. She even made a quiz about a current episode of "The Bachelor" and was thrilled when Blake answered her question.
Brittany also has a passion for acting and would love to join the cast of "The Bachelor" but is afraid of losing editing rights if she says something inappropriate. She joked that she wouldn't have the emotional balance to handle 25 men if she were the bachelorette.
Brittany Hanrahan Returns To The Podcast
In 2021 she was in town to headline Zen Comedy a show hosted at The Reiki Academy. So I asked if I could steal a slice of her time and get her back on the show. I am so happy she agreed! It was a wonderful time. We recorded hours before the show and the show literally had 5 tickets left. In the wonderful interview, we talked about her viral TikTok and how her stand-up comedy has been changing.  I have seen Brittany do stand-up comedy many times but that night she was on fire! It was a great show and I can not wait to see her perform again. You can listen to the second interview here.
If you're a fan of comedy and want to learn more about the experiences of a successful stand-up comedian, then you won't want to miss the full episode of the Zack Lyman Podcast featuring Brittany Hanrahan. During the show, Brittany opens up about her journey in the industry and shares her thoughts on various topics, including her love for travel, her passion for hosting, her thoughts on reality TV shows, and her future aspirations.
This episode is not only entertaining, but it also provides valuable insights into the world of comedy and the experiences of a rising star. So, be sure to listen to the full episode to get the complete picture and discover more about the talented and humorous Brittany Hanrahan.
Brittany Hanrahan On The Big Laugh TV Show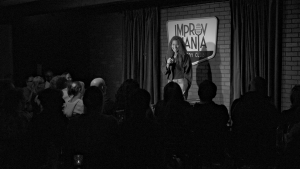 Also, see Brittany Hanrahan on the new TV Show The Big Laugh in 2023.
Where To Find Brittany Hanrahan Online
Follow Brittany On Instagram.
Follow Brittany On Tiktok.
Want to step up your comedy game? Check out my blogs!
Another great guest episode was Mary Kate Wiles. 
Give The Podcast A Follow On Spotify